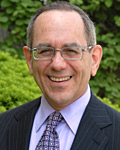 Michael Solomon, Ph.D. is Professor of Marketing and Director of the Center for Consumer Research in the Haub School of Business at Saint Joseph's University in Philadelphia. He also is Professor of Consumer Behaviour at the Manchester School of Business, The University of Manchester, U.K. Prior to joining the St. Joe's faculty in Fall 2006, Michael Solomon was the Human Sciences Professor of Consumer Behavior, at Auburn University. Before moving to Auburn in 1995, he was Chairman of the Department of Marketing in the School of Business at Rutgers University, New Brunswick, NJ.
Prof. Michael Solomon began his academic career in the Graduate School of Business Administration at New York University, where he also served as Associate Director of NYU's Institute of Retail Management. He earned B.A. degrees in Psychology and Sociology magna cum laude at Brandeis University in 1977, and a Ph.D. in Social Psychology at The University of North Carolina at Chapel Hill in 1981. Michael Solomon was awarded the Fulbright/FLAD Chair in Market Globalization by The U.S. Fulbright Commission and the Government of Portugal, and in Fall 1996 he served as Distinguished Lecturer in Marketing at The Technical University of Lisbon.
Prof. Michael Solomon's primary research interests include consumer behavior and lifestyle issues, branding strategy, the symbolic aspects of products, the psychology of fashion, decoration, and image, services marketing and the development of visually-oriented online research methodologies. Michael Solomon has published numerous articles on these and related topics in academic journals, and he has delivered invited lectures on these subjects in The United Kingdom, Scandinavia, Australia, and Latin America. His research has been funded by the American Academy of Advertising, the American Marketing Association, U.S. Department of Agriculture, the International Council of Shopping Centers and the U.S. Department of Commerce. Four research projects are currently funded by major multi-year grants from The National Textile Center, U.S. Department of Commerce.
Michael Solomon currently sits on the Editorial Boards of the Journal of Consumer Behaviour, the Journal of Retailing, and The European Business Review, and he recently completed an elected six-year term on the Board of Governors of the Academy of Marketing Science. Prof. Michael Solomon has been recognized as one of the fifteen most widely-cited scholars in the academic behavioral sciences/fashion literature, and as one of the ten most productive scholars in the field of advertising and marketing communications.
Prof. Michael Solomon received the Cutty Sark Men's Fashion Award for his research on the psychological aspects of clothing. He is Editor of The Psychology of Fashion and Co Editor of The Service Encounter: Managing Employee/Customer Interaction in Services Businesses, both published by Lexington Books. Michael Solomon's textbook, Consumer Behavior: Buying, Having, and Being, published by Prentice Hall is widely used in universities throughout North America, Europe, and Australasia and is now in its eighth edition. The text has been translated into several languages including Spanish, Portuguese, Czech, German, French, Russian, Chinese and Korean, and separate European and Canadian versions are the market leaders in those areas. Prof. Michael Solomon's text, Marketing: Real People, Real Choices was published in its fifth edition by Prentice Hall in January of 2007 and is currently one of the five most widely-adopted Principles of Marketing texts in the U.S.A. Soundview Executive Summaries named his trade book, Conquering Consumerspace: Marketing Strategies for a Branded World, (AMACOM) one of the best business books of 2004.
In addition to his academic activities, Prof. Michael Solomon is a frequent contributor to mass media. His feature articles have appeared in such magazines as Psychology Today, Gentleman's Quarterly and Savvy. He has been quoted in numerous national magazines and newspapers, including Allure, Elle, Glamour, Mademoiselle, Mirabella, Newsweek, The New York Times, Self, USA Today, and The Wall Street Journal. Michael Solomon frequently appears on television and radio to comment on consumer behavior issues, including "The Today Show," "Good Morning America," CNBC, Channel One, "Inside Edition," "Newsweek on the Air," The Wall Street Journal Radio Network, the Entrepreneur Sales and Marketing Show, the WOR Radio Network and National Public Radio.
Prof. Michael Solomon has provided input as a marketing consultant and an expert witness to a variety of organizations on issues related to consumer behavior, branding, services marketing, retailing and advertising. His clients have included Armstrong World Industries, Bayer Healthcare, Celanese, Gap, Inc., Hakuhodo Advertising (Tokyo), H&M, Johnson & Johnson, Kayser Roth, Levi Strauss, Living Tomorrow, Prudential Securities, State Farm, and United Airlines. He is a Managing Director of Mind/Share, Inc., a consulting firm specializing in consumer research and lifestyle marketing issues for such clients as DuPont, Black & Decker, eBay, PPG Industries, Visa, VF Corp., Timberland, and Calvin Klein.
Prof. Michael Solomon is in demand as a speaker to business groups; he has delivered keynote addresses to numerous organizations including The Can Manufacturers Institute, The Cosmetics, Toiletries, and Fragrances Association, Credit Agricole Mutuel, Experian, Dentsu, Inc. (Tokyo), The Fragrance Foundation, The Point of Purchase Advertising Institute (POPAI), The Hearth, Patio and Barbecue Association, The International Furnishings and Design Association, The Japan Marketing Association, The SAS Institute, The Japanese Financial Services Council, The National Kitchen and Bath Association NCR Corporation, The Society of Consumer Affairs Professionals, Symantec, Inc., The Textile Rental Services Association, The Toy Industry Association, The U.S. Army, The Vision Council of America, Self magazine, U.S. Cellular, DDB Needham, and McCann-Erickson.